Case Study: Virtually Staging an Ugly Garage as a Cool Workshop
What if you have a listing with a unique space like a workshop, art studio, music studio or event space.... but it's empty, cluttered or furnished with ugly, dated items?
Rather than posting the photo as-is (which will turn buyers off), consider having the photo staged, which will turn the space into a unique selling point.
For instance, below is a photo of a garage that Stuccco virtually staged as a workshop: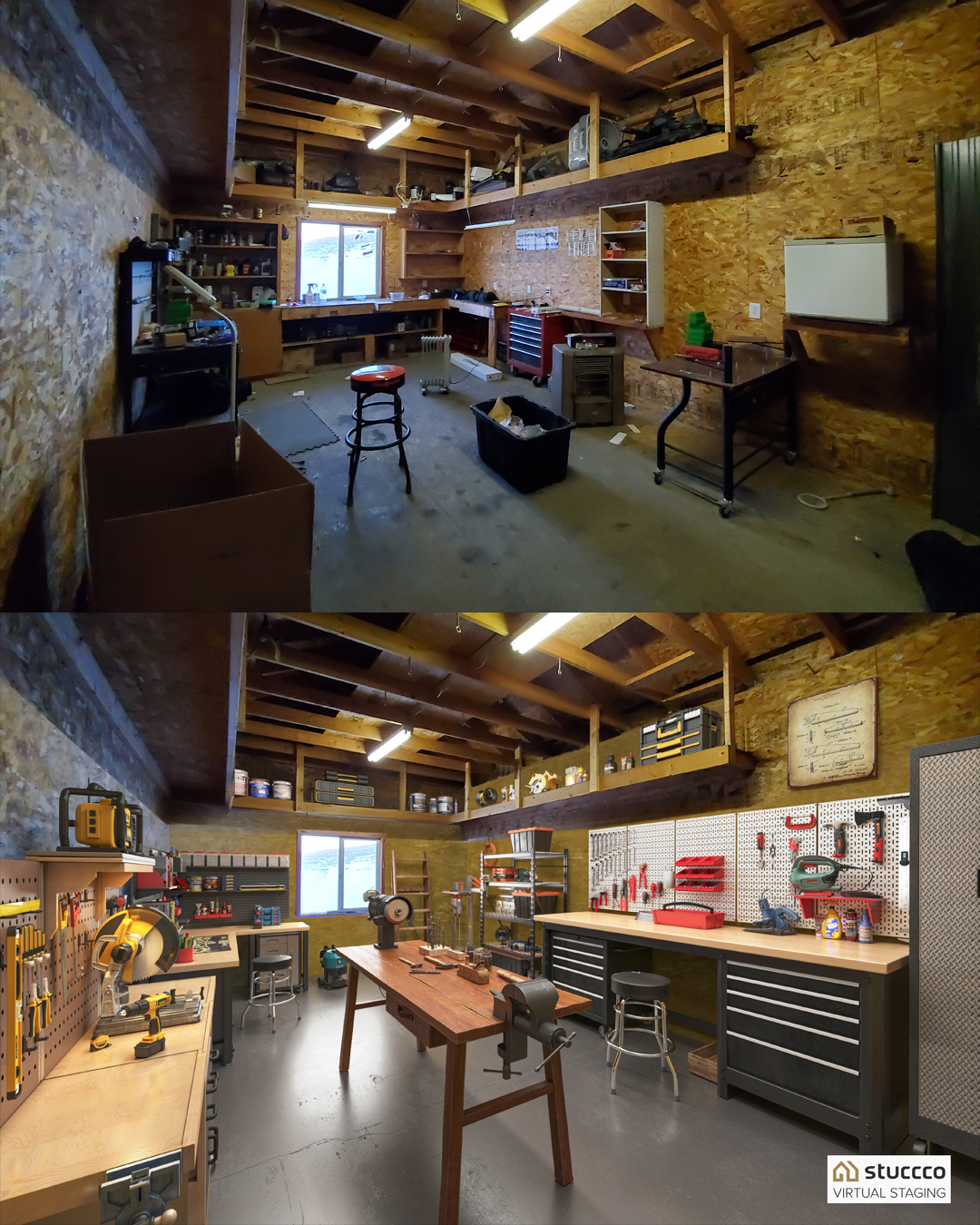 If the listing agent posted the dark photo of the cluttered space (top), buyers wouldn't think much of it. Upon looking at it, some buyers may even feel the home is overpriced because it contains unusable square footage. Rather than risk that outcome, the listing agent had the photo staged (bottom). Armed with the staged photo, the agent now has the power to position the space as a cool, valuable workshop that a buyer can use for storage and/or woodworking.
In this case, the photo only cost the agent $54 - a small price to pay to help buyers quickly understand and get excited about the room's true potential and intended use.
Here's how simple, affordable and fast it was for the agent to accomplish this transformation.
The agent:
Uploaded the "before" photo
Selected Stuccco's "Remove existing items and add new furniture and decor" ($39) and "Change flooring" ($15) services to be performed on the photo
Placed the order
In less than 24 hours, the photo was staged by one of Stuccco's professional designers. The agent was then able to sign in to her Stuccco account to view and download the virtually staged photo. 

Note: here's a full post with step-by-step instructions on how to place a virtual staging order on Stuccco.
Now the agent is able to use the staged photo to help market and sell the property faster, safer, and more effectively.
We can help you transform any photo of any space no matter how empty, ugly or awkward it may be. If you're interested in learning more or placing an order of your own, click here today and have your photos ready by tomorrow.