8 Home Decor Trends That Will Have You Redecorating ASAP
Like fashion, home decor trends change and evolve from year to year. And like our clothing choices, our home needs to reflect our personalities. Changing the design of your home to follow every single new trend isn't quite as simple as changing your clothes, but small updates and a few tricks can quickly breathe new life into your space.

Start improving your space with a few of our guides: 
At Stuccco, our designers and developers are constantly staying up-to-date on the latest home decor trends--it's what we love after all! After much debate and deliberation, we've come up with the eight trends we are seeing in 2018 that make us want to redecorate every room in our houses!
If you're ready to start designing your space now, visit our
Online Interior Design
page
1. Tone on Tone
Think walls and baseboards in the same color or a dresser that is painted the same color as the wall behind it. When you layer the same color, the room feels more decadent and interesting. It's a home decor trend that feels on purpose--like you care about what your room is saying.
2. Brass Accents

This mood board from Jessica Rose Studio in Stuccco's Design Inspiration Center features subtle, yet stylish brass accents in the form of light fixtures, wall mirrors and even flatware.
Brass somehow feels retro and modern at the same time. Plus, adding brass accents in the form of cabinet pulls or light fixtures, are a great way to incorporate a modern home decor trend that won't cost a fortune.
3. Shades of Green
Take your home back to nature with green. Whether you paint an entire bedroom a rich emerald or incorporate this home decor trend in simpler ways like house plants or throw pillows, adding green is a great way to update any room.
4. Natural Elements

From the live-edge dining table to the wood beams and accent wall, this room designed by Stuccco designer Lacie Grace Interior Design is simple, beautiful and timeless.
Taking the green trend to a new level, we love all the natural elements we are starting to see in home decor trends. Think raw edge wood tables, jute rugs and artwork made with pressed leaves or flowers. Bringing the outside in tailors to the overarching wellness trend that has affected every industry from architecture to food service, retail and now interior design.
5. Handcrafted Pieces
Finally, 2018 is the year of the artisan! People are beginning to shy away from mass-produced home products in favor of locally or ethically sources hand-made items. Stuccco designers love incorporating these pieces into the rooms they create for their clients because they give a one-of-a-kind feel to the space. Stuccco is unique in that it allows designers to choose products from absolutely anywhere to incorporate into their clients' designs, which means your space will be filled with unique pieces that fit into your style and budget.
6. Woven Textures
The textiles in this Gray + Gold Designs Cape Code living room are stunning! From the tapestry to the pillow covers, this room is at the same time on-trend and classic.
Incorporating natural elements into your home leads to some pretty beautiful woven textures. Thinking outside the jute rug box, a simple macrame plant hanger or hand-stitched pillow case will bring this trend to live and give your space interest and dimension.
7. Fringe
Hippie-chic is back on the runways, but it's also a fun addition to your home decor as well. Add fringe in unexpected ways like on throw pillows or artwork. The accessory will add dimention and interest to your space. Plus, fringe is always a good conversation starter!
8. Moody Paint Colors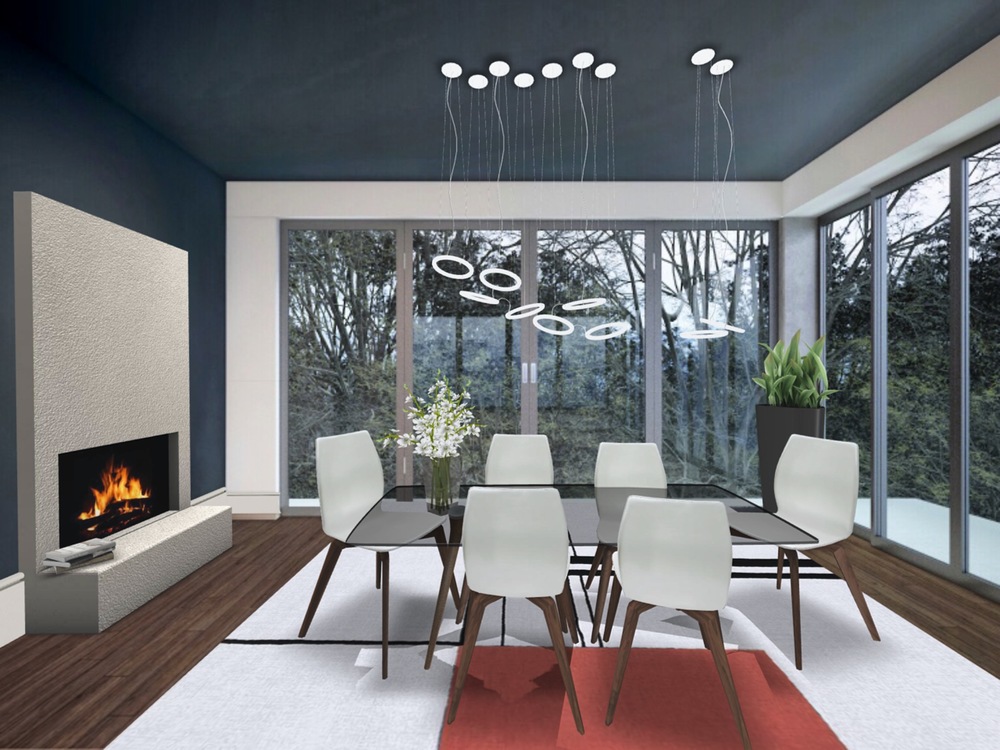 The dark tones in the edesign mock-up from Jamie Thomas Design gives a high-end feel with only a few swipes of the paint roller!
Set the mood with your home's walls. We love incorporating this trend in subdued spaces like bedrooms and bathrooms. We understand you like bright and inviting in the kitchen, but imagine a moody deep green bedroom or a dark slate bathroom tiles. It's oddly calming isn't it?

Home Decor Trends to Leave in 2017
1. All White Kitchens
We are glad the be rid of the Tuscan-style kitchens that were in every home in the early 2000s, but the contrasting stark white is too much. If you love the look of white cabinet (so do we!) be sure to throw in some accents like a backsplash in an unexpected color or deep wood floors to ground the space.
2. Chevron
I think most interior designers were over chevron print before it even started. While this graphic print can look fun in children's rooms, it tends to come of as cheap in adult spaces. Switch out your chevron curtains or lampshades for simpler and classic versions.
3. Farmhouse Everywhere
We love Chip and Joanna Gaines as much as the next home decor enthusiast, but even Joanna has graduated from the style that put her on the map. Shiplap everywhere and wood signs are in the past. If you still love the feel of farmhouse look, try incorporating farmhouse pieces that are made to last like a handmade barnwood table.
Do you love these home decor trends, but need help incorporating them into your space? Hire one of Stuccco's amazing designers to help you add a few updates to your space with a quick $99 consultation. Over a 30-minute phone call, your designer will be able to recommend quick fixes, easy updates and invaluable advice to bring your space into 2018.
Or, if you're thinking a complete overhaul is what your house is begging for, choose Stuccco's Concept or Complete design packages, which will allow you to work with a designer to get the exact space your hoping for.