5 Design Tips to Make the Most of Small Spaces
Have you ever wondered how to get the most out of a small space?

Yep, us too.

So we went straight to the source of great ideas by asking a group of professional interior designers to share their favorite tips for making a small space look large. Here are five of their favorites...
1. Be smart about your coffee table.
A large coffee table will crowd a space. Go with smaller tables like nesting tables. "When not in use [nesting tables] look great. When you have friends over the taller one can be moved to the side to serve as a cocktail table," Jessica Rose of Rose Studio Design points out.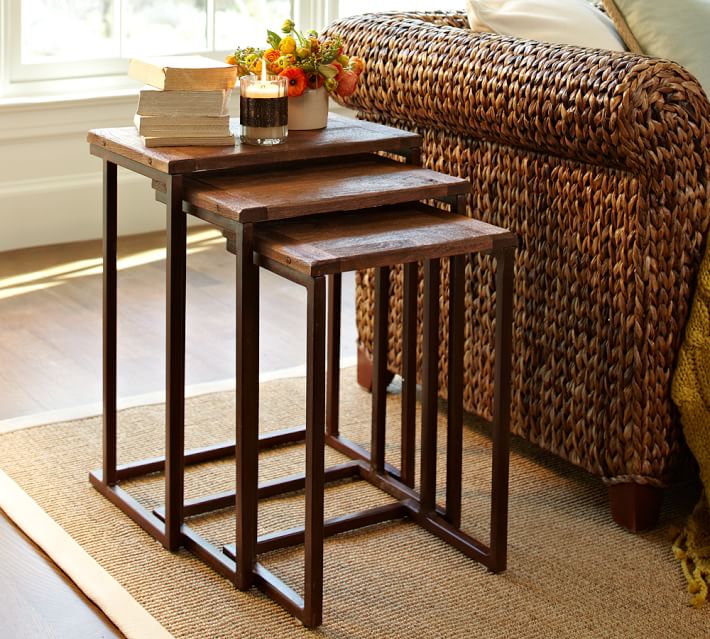 Nesting tables are functional & beautiful for small spaces like these tables from Pottery Barn.
2. Be light, be bright.
"You want to let in as much natural light as possible, so go light on the drapery," says Ariana Afshar Lovato of Honeycomb Home Design. "Natural linen curtains let in enough light while offering privacy." Also use mirrors. Lovato adds, "[Mirrors] reflect the light from windows and create the illusion of a bigger space."
Look for practical furniture with multiple purposes like this coffee table from west elm.
3. For a win, go thin, open or built-in.
Shelves can provide much-needed storage space. Consider building them into a recessed wall or under a staircase. If that's not an option, opt for shelves that are open but not deep.
4. Use practical items that serve multiple purposes.
Heather of Heather Hess Design explains, "Use an upholstered bench instead of a coffee table for extra seating when entertaining. Wall sconces serve as wall decor, provide light and free up floor space." Audrey Crisp of E-Design By Audrey suggests furniture like her coffee table from West Elm because it, "Doubles as a desk for working or a table for eating and provides storage."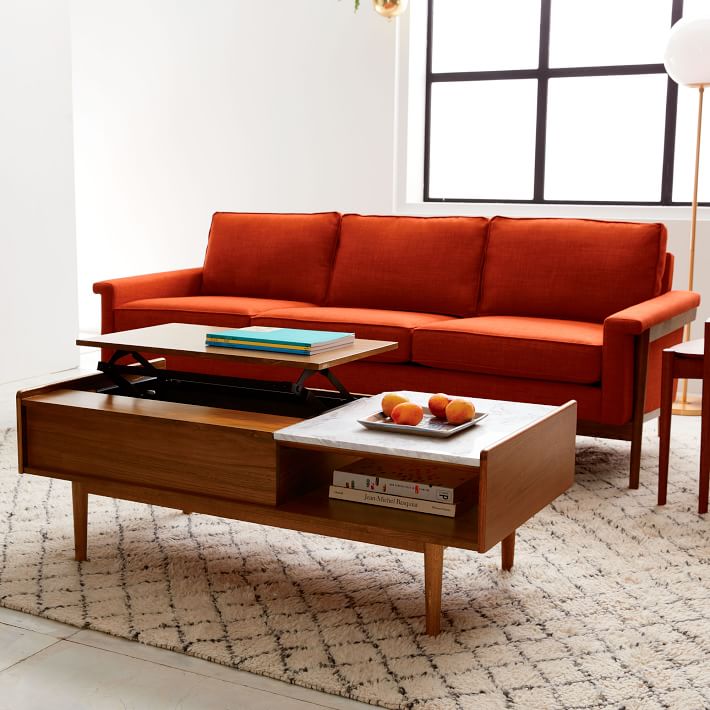 Look for practical furniture with multiple purposes like this coffee table from west elm.
5. Tidy up.
Lauren Schultz of Alternative Revival challenges us to think about what we really need. "Assess what's useful on a regular basis and what you can happily live without. Ask, 'Is this item currently making my life easier or adding happiness to my daily life?' If the answer is yes, keep it. If not, donate or recycle it."
Small apartment resident, Matt Langan, agrees, "Less becomes more when it comes to small spaces. It's about quality, not quantity. You don't have the luxury of making design mistakes if you want a small space to work."
"I actually enjoy designing these spaces because it's like a puzzle...every piece has to fit just right," shares Lovato.
Lovato is one of Vetted online interior designers who help homeowners and apartment tenants make the most of their spaces on Stuccco.com, an online interior design platform.
"When it comes to our homes, after a certain point, I don't believe it's about size. Size isn't what we're really after. It's about having that feeling when we walk into a room. It's about love... knowing your home reflects and protects you. Everyone deserves to live and work in a space that makes them feel good."
"I tell my friends, 'Having a great place isn't as difficult to obtain as you think,'" shares Langan, the creator of Stuccco. "Because it isn't about having a great BIG space - it's about having a well designed space. And a well designed space has never been more within reach. If you can buy shoes on Amazon, you can get your home designed on Stuccco."
"When someone walks into your home - big or small - and says, 'Wow,' that's successful design. And that's now within reach."
Try Stuccco